Gizmo Watch 2 vs 3 comparison
Gizmo Watch 2 vs 3 comparison – We are going to compare the two smartwatches which are Gizmo Watch 2 and Gizmo Watch 3. There will be a review, specifications, and many more details which will help you to know completely about it. Just read it till the last.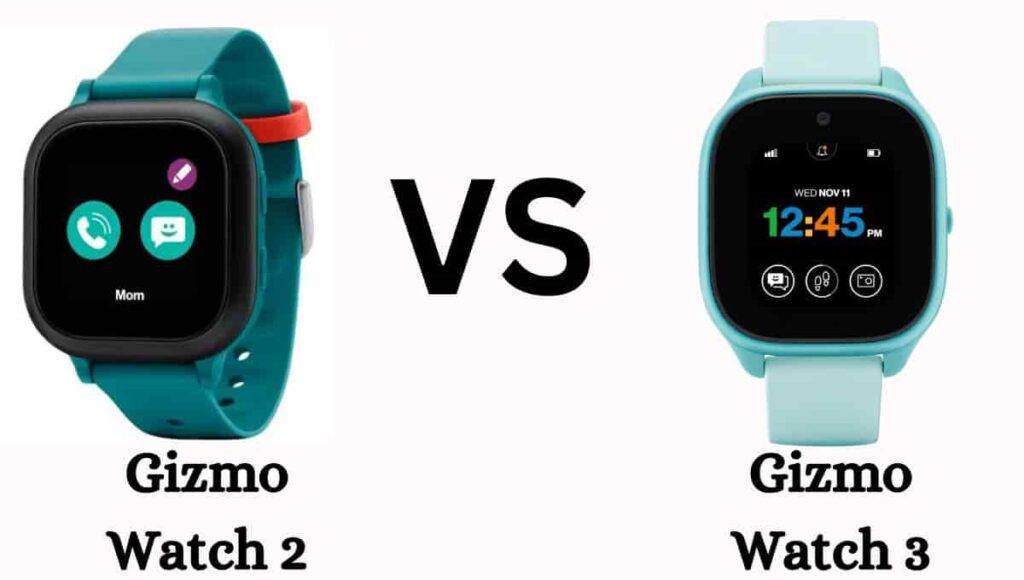 Model Name and Price
Gizmo Watch 2 vs 3 comparison
Review of Gizmo Watch 2
The GizmoWatch 2 virtually resembles an Apple Watch when seen closely. With a rubbery blue or pink strap, it boasts a 1.4-inch square touchscreen with rounded corners. The display has 303 pixels per inch of resolution and is vivid and brilliant. It weighs 1.94 ounces and is 0.53 inches thick. My wrist feels light when wearing it, and the band is cosy.
According to Verizon, the GizmoWatch 2's 500mAh battery can last up to four days with regular use and contains 4GB of RAM, a Qualcomm Snapdragon Wear 2500 1.2GHz quad-core processor, and all of these features. In tests, the battery maintained a charge of more than 50% after 24 hours.
The GizmoWatch 2 has an IP67 rating for water resistance, which means it can endure up to 3.2 feet of water for 30 minutes. You must line up the four tiny gold pins on the included charger with the watch's charging connections in order for it to charge. The charger is easy to use because they magnetically attract one another.
Review of Gizmo Watch 3
The new Gizmo Watch 3 and its predecessor don't have any noticeable cosmetic differences. The most obvious changes are the addition of a camera to the watch's display and the switch from a two-tone colour scheme. The upper two-thirds of the Gizmo Watch 2 were covered in a black frame, and the remaining third was covered in one of four colours. In the new design, the camera is enclosed by a black bezel that surrounds a single-colour case that comes in either Teal Mint or Blue Clay.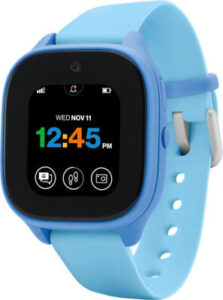 The Gizmo Watch 3 connects using a magnetic system, just like the Gizmo Watch 2. It is practical since it ensures that the dock is attached and positioned correctly for charging, making it simple for children. There are two negative effects. One is that if you lose the cable, it's difficult to use another charger. The other issue is the watch's depression, where the pins can easily collect dirt and debris. You should keep an eye on the charger since if it isn't cleaned out, it won't work. The watch will even advise using rubbing alcohol to clean the connector before you begin charging.
These statistics are fantastic when compared to many other children's smartwatches I've looked at. The majority of these devices have battery lives that are equivalent to the majority of the best smartwatches for adults, or about one day. While the Garmin Bounce has a longer battery life, the Gizmo Watch 3 does not track sleep.
Specifications of Gizmo Watch 3
Gizmo Watch 3 Design
| | | |
| --- | --- | --- |
| | Gizmo Watch 2 | Gizmo Watch 3 |
| Dimension | 1.71 x 1.77 x .53 inches | 1.81″ H x 1.65″ W x .58″ D |
| Weight | 1.94oz | 1.75 oz |
Gizmo Watch 2 vs 3 comparison
Gizmo Watch 3 Camera
| | | |
| --- | --- | --- |
| | Gizmo Watch 2 | Gizmo Watch 3 |
| Camera | No | Yes |
Gizmo Watch 2 vs 3 comparison
Gizmo Watch 3 Battery
| | | |
| --- | --- | --- |
| | Gizmo Watch 2 | Gizmo Watch 3 |
| Battery Life | No | 3.6 days |
| Battery | 500 mAh | No |
| Sensors | Yes | Yes |
Gizmo Watch 2 vs 3 comparison
Gizmo Watch 3 Compatibility
| | | |
| --- | --- | --- |
| | Gizmo Watch 2 | Gizmo Watch 3 |
| Compatibility | Android, Apple | Android, Apple |
| Communication | talk, text, video calls | talk, text, video calls |
Gizmo Watch 2 vs 3 comparison
Gizmo Watch 3 Other Features
| | | |
| --- | --- | --- |
| | Gizmo Watch 2 | Gizmo Watch 3 |
| Screen Size | 1.4 inches, 300×300, 303PP1 | 1.41″ |
| Connectivity | 4G LTE | Wi-Fi, 4G LTE |
| Age Recommendation | 5+ | 5+ |
| Number of Colours | 2 | 2 |
Gizmo Watch 2 vs 3 comparison
Also, Read