pTron Bassbuds Eon TWS Earbuds Review, Manual, Quiz
pTron Bassbuds Eon TWS Earbuds Review, Manual, Quiz – We are now going to discuss the importance of pTron Bassbuds Eon TWS Earbuds. We will specify them, we will provide specifications, reviews, and many more to them. For further information, just go through the context and get to clear all your doubts.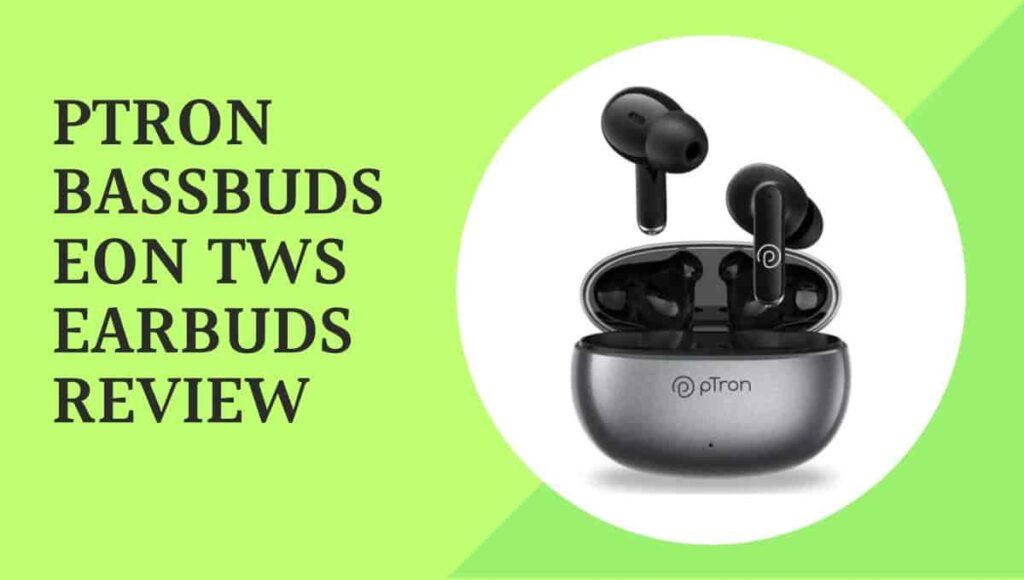 Model Name and Price
pTron Bassbuds Eon TWS Earbuds Review, Manual, Quiz
Review on pTron Bassbuds Eon
The design of pTron has significantly advanced from earlier iterations. The charging case boasts a shiny finish and an oval form. The charging case's size is its best feature. Forget about pockets; the case fits in your palm with ease. The case size has been kept as compact as feasible by pTron, who has done an outstanding job. Only the Graphite Black colour option is available for the pTron Bassbuds Eon.
The case is of outstanding quality and has a high-end feel. Only the pTron branding may be found on the front of this simple design. Because of the sturdy construction of the charging case, shaking it won't cause it to rattle. You may reach the earbuds by lifting the lid.
Each of the two earphones weighs only 3.65 grams and fits into a specific hole in the charging case. Built-in magnets on each earbud keep them safely enclosed in the case. The cover of the charging case has magnets as well, and it closes with a nice click. While using the charging case with the earphones inside, I did not hear any noise or unpleasant sounds.
Even though the charging case's magnets are powerful, you can unlock the cover with just one hand. At the same time, even a small hand movement causes the lid to retract. You may occasionally need to make many efforts to keep the earbuds in their proper position because neither the charging case nor the headphones have a Left/Right indication. If you hold the charging case with the lid open and face it downward, the earphones won't fall out thanks to the integrated magnets.
Specifications of pTron Bassbuds Eon
pTron Bassbuds Eon General
| | |
| --- | --- |
| Brand | pTron |
| Model | Bassbuds Eon |
| Design | TWS Earbuds |
| Type | In the Ear |
| Connectivity | Wireless |
pTron Bassbuds Eon TWS Earbuds Review, Manual, Quiz
pTron Bassbuds Eon Features
| | |
| --- | --- |
| Bluetooth | Yes, 5.3 |
| Bluetooth Range | 10 m |
| USB | Yes |
| Microphone | Yes |
| Water Resistant | Yes |
| Controls | Touch Control |
| Switch between Call and Music | Yes |
| Additional Features | IPX4 Rated, Type-C Fast Charging |
pTron Bassbuds Eon TWS Earbuds Review, Manual, Quiz
pTron Bassbuds Eon Sound Features
| | |
| --- | --- |
| Deep Bass | Yes |
| Frequency Response | 20 Hz (Min) – 20 kHz (Max) |
| Driver Unit | 13 mm |
| Driver Type | Dynamic |
| Noise Reduction | Passive Noise Cancellation |
| Environmental Noise Cancellation | Yes |
| Other Features | ENC Stereo Calls |
pTron Bassbuds Eon TWS Earbuds Review, Manual, Quiz
pTron Bassbuds Eon Extra Features
| | |
| --- | --- |
| Sales Package | 1 Pair Earbuds, 1 Charging Case, 1 Charging Cable, 1 User Guide Card, Extra Eartips |
| Inline Remote | No |
pTron Bassbuds Eon TWS Earbuds Review, Manual, Quiz
pTron Bassbuds Eon Power Features
| | |
| --- | --- |
| Power Input | DC 5v-1A |
| Battery Life | 30 hours (With Case) |
| Charging Time | 1 hour (Case) |
pTron Bassbuds Eon TWS Earbuds Review, Manual, Quiz
pTron Bassbuds Eon Warranty
| | |
| --- | --- |
| Warranty | 1 year |
| Warranty Type | Manufacturer |
| Covered in Warranty | Manufacturing Defect |
| Not Covered in Warranty | Physical Damage |
pTron Bassbuds Eon TWS Earbuds Review, Manual, Quiz
Also, Read